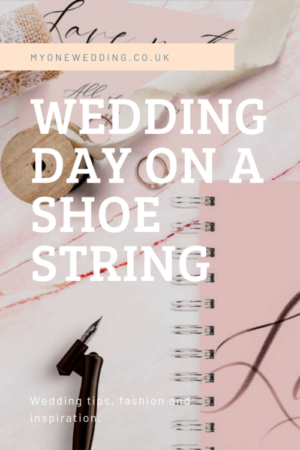 Every one of us loves a good old fashioned wedding, the outfits, the champagne, the reception and speeches; if the weathers nice it's a day that most of us will reminisce for years to come. But over the years weddings have become more and more expensive with some brides turning into bridezilla insisting a day that will outshine and out better the last wedding everyone last went to! A recent survey has now claimed that in 2019 an average bride and groom will spend a whopping £20,000 on their wedding day, this is not even including the honeymoon they're swanning off to after! But is it really necessary to spend such a huge amount of money on just one day? A venue that sure, everyone will enjoy…until there is another wedding on the horizon and your wedding is just some hazy memory in the past? We all want a perfect wedding but does splashing the cash and always opting for the most expensive venue, dress or food always equal perfection? In this current climate a lot of bride and grooms-to-be would agree that there are more important things to spend their hard earned money on. Many would rather spend a large wad of a wedding fund on a deposit on a house, or a holiday; or even home improvements that will last a couple a lot longer than one day. Here at One Wedding we have compiled some helpful tips when it comes to planning your big day, so you can have a day to remember; without breaking the bank.
There are many beautiful gowns now available on the high street and online, times have changed and it's not a necessity to have to go to that expensive, independent bridal shop in town. Stores like Debenhams and House of Fraser have wonderful wedding dresses from many different reputable designers. There is a huge selection of affordable bridesmaid dresses too, from as little as £30! Or perhaps if you don't mind a second hand dress there is eBay, someone else's dress which they no longer want could be perfect for you at a fraction of the cost!
When it comes to the groom and his merry men how about renting the wedding suits? Many independent menswear shops in most towns provide this service for the groom, best men, fathers and page boys from as little as £50. There really isn't any need to spend hundreds on a wedding suit that the groom is only going to wear the once. Google, to find your nearest local shop.
Reception and Food
Lots of venues now charge an extortionate amount for the use of their grounds and buildings. Yes they are nice places that you will spend a few hours eating and dancing in but are they really worth all those thousands of pounds? There are many smaller, but just as beautiful places to get hitched from local hotels and golf clubs that provide the venue and lovely grounds all at a much more affordable rate. Why not look around to find your nearest golf course. There might be one on your doorstep you didn't even realise was there! You might know of local parks, woodlands, or even beaches that you would like to have your pictures taken at. These places are free and may hold more meaningful, personal memories. Local social clubs and private pubs all may offer a cheaper alternative to the larger castles or stately manor houses. Lots of these places will offer their own food menu at a reduced rate if you have your day with them. If not how about a local caterer? Food for 40 people can sometimes be as low as a few hundred! Get Googling now!
Added Extras
Watching the pennies and being a bit more frugal with your money doesn't have to just apply to the big things at your wedding like the venue or the dress but the final details of your wedding day can save you a lot of money too! The decorations, table lay outs and wedding cakes can all be done on a budget. M&S do some beautiful wedding cakes for a fraction of the price, or you could decide to have a large display of cupcakes instead, many brides are now opting for this cheaper, modern version to give everyone a taste of different style of cakes and flavours. Ask around, maybe you have a friend of the family who enjoys cake making or know someone who has a good eye at laying and displaying things who could lend a hand preparing the tables, so you don't have to pay extra for a wedding arranger or planner.
Supermarkets now have an enormous selection of wines from all over the world, some more low budget foreign supermarket's wines start from as little as £3! So buying a bottle to go on each table wouldn't break the bank! Little touches don't cost the earth giving each guest a little bag of sugared almonds give the desired effect without costing a fortune!
Always do your research when looking for a reputable music DJ or photographer. This doesn't mean that the most expensive one is always the best. Ask around getting a good recommendation from word of mouth is more important than what you read online. Perhaps you know someone who does DJ or photography in their spare time who could provide a service for a fraction of the cost? If you wanted the music and photographs even cheaper you could always do it yourself. Many iPads now have hooks up that with one lead can transform your iPad into a mini disco through a set of loud speakers! Or for something different why not look online for local bands or singers.
Last Words of Wisdom!
There are many other things you can do to cut down the costs of your big day. Most importantly it is having the right attitude when it comes to parting with your money; think carefully and don't always buy things on a whim. Think things through before you part with your cash. Do you really need something as expensive when there is a cheaper just as decent version for a fraction of the price? Remember why you are being extra careful with your money. Perhaps envisaging your dream holiday or home will remind you of what's truly important in your life.
Lastly always try to remember it's a day about marrying the person you love and care about and want to be with, to come through the good times and bad. Spending thousands on large venues and big expensive dresses doesn't prove that. A wedding day will be over before you know it. It's the actual marriage and vowels you will make that everyone will really remember for years to come, not the dress or location. A good long marriage is priceless and will last you a life time!