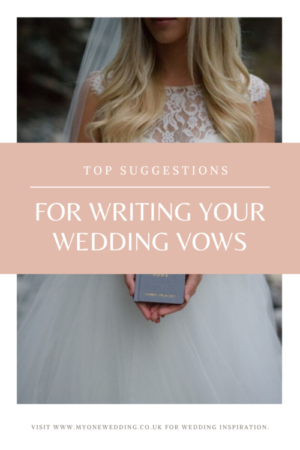 You've both decided you want to write your own vows for the big day. Great! What next?! If you want to add personality, emotion and even more smiles to your wedding day then writing your own vows will add a lovely touch. This is your chance to be 100% yourselves, to show an insight to your relationship and love for each other in front of all of your family and friends. What effect do you want it to have on your OH and guests? Do you want the vows to be emotional, funny, happy or special? You may find it difficult writing down how you feel without making it sound cliché and cheesy. If you'd prefer more alternative vows then why not think outside of the box? If you have any special poems, songs or readings which relate to you both then this can be a wonderful touch too. Inspiration can come from anywhere. Write down any phrases you hear which strikes a cord with you. This could be from quotes, films, music, tv shows and books. If you hear something you love, jot it down!
If it's something you haven't really thought about before or chosen not to do, then that's fair enough. There's nothing wrong with going down the traditional route. Make sure you're both happy with your decision and don't force it if one of you doesn't want to write vows, as it's not for everyone!
First things first, please check with your officiant or religious representative that you can write your own vows. All licensed wedding venues require you to say specific, legal words when you're actually getting married, however you can usually add in your personalised written vows before or after. You'll probably need to run your vows past the person who will conduct your ceremony, or have them approved by a registrar to make sure they are happy with them.
This is your chance to make your husband or wife to-be feel loved by telling them exactly how you feel. It's not easy writing vows, however we are going to give you some starting points for you to think about. Before you start writing, sit somewhere quiet and write down whatever comes to mind.
One thing you need to decide on is ground rules. Whether you want to keep your vows a secret from each other, or write them together is totally up to you as a couple. Many couples want it to be a surprise for the wedding day, or prefer to show each other before hand and even incorporate them into each other. If you are keeping them secret, it's best to agree on a tone. If one is jokey and the other romantic and serious, this may not work so well together! Set a tone and put pen to paper, you'll be surprised at how effortless it is to express your feelings.
Usually vows last one to two minutes, any longer and it may drag on a little! The key is to talk about the most important factors for you, your fiance and your marriage.
• Why are you marrying them? What does this day symbolise to you? Why have you chosen to marry each other?
• What is one thing that your other half does which no one else does? What do you both laugh about and what puts a smile on your face everyday?
• What have you both been through together in your relationship? Every relationship has memorable memories both good and bad. Those times have shaped you to be the couple you are today. Have there been difficult times that only they have helped you through? Perhaps you want to talk about the birth of your child or sharing an animal you both adore dearly! Have you both had countless homes, jobs, career moves and changes that you've both adapted to and supported each other with?
• This part is simple and our favourite, list five things you love most about them.
• What makes your relationship special?
• When did you first realise you loved them?
• Do you have any promises you'll keep?
• Look to the future! What hopes, dreams and aspirations do you have? Ultimately, what are you promising to each other? What kind of husband or wife do you want to be and why?
It may seem daunting writing your own vows, however once you start writing down the answers to the above points, you can decide which parts you love and want to be included. Use traditional templates as a structure as it can really help, however change it as much as you want. Try not to leave it until the last minute, you don't need any added stress in the days before your wedding. Try and complete your vows within three weeks before the big day. Before your wedding day, make sure you practice the vows you have written over and over again and even read to someone close to you and see what they think. This is the perfect way to see if it flows well and if you like the sound of it. Write a much as possible then filter down the best parts until you're left with something you're totally happy with. Any tongue twisters or words which you are finding difficult to pronounce, scrap them! Remember, these are YOUR vows, for you two and no one else. There's no rules, just say what you feel in your heart and don't be afraid! Good luck, we'd love to hear from anyone who is in the process of writing their own vows.